18 Oct

HSBC Cuts Pay 10% for Hundreds of Investment Bank Contractors

HSBC Holdings Plc will cut the pay of hundreds of part-time contractors at its investment-banking arm in London by 10 percent and ask them take two weeks of unpaid leave, according to a person with knowledge of the decision.

Contract workers in the global banking and markets division will have their pay cut this month with no exceptions, said the person, who asked not to be identified because decisions are private. While information technology staff and some financial analysts at the division may be affected, it won't be extended to full-time staff, the person said.

"As a routine practice in Global Banking & Markets, we regularly review rates for contractors to ensure alignment with the market and manage costs," HSBC said in an e-mailed response to questions Thursday.

Chief Executive Officer Stuart Gulliver, 56, has come under pressure from investors to lower costs to help shore up profitability. Europe's largest bank, which generates most of its earnings in Asia, unveiled a three-year plan in June to exit businesses, trim headcount by about 50,000 and cut annual costs by as much as $5 billion.

The stock rose 0.3 percent to 517.10 pence at 9:29 a.m. in London, paring losses this year to about 15 percent.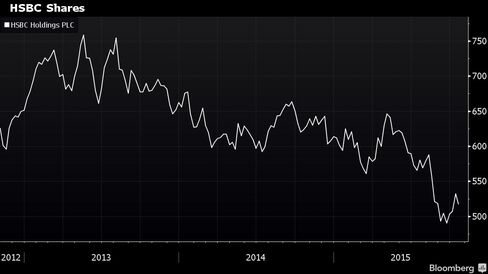 The investment bank's cost-efficiency ratio, which measures expenses as a proportion of revenue, rose to 56.4 percent in the first half of the year from 50.6 percent a year earlier. HSBC's Finance Director Iain Mackay said at the time the rest of the year will be "heavily cost focused" as the bank seeks to grow revenue faster than costs, known as "positive jaws."
The Times reported the plans earlier.